The wellbeing and safety of dogs and their people is our number one priority at Camp Unleashed. We recognize offering an off-leash experience is not without its challenges, but doggy freedom is what Camp Unleashed is all about. We are dedicated to ensuring a high-quality experience with maximum freedom for the dogs.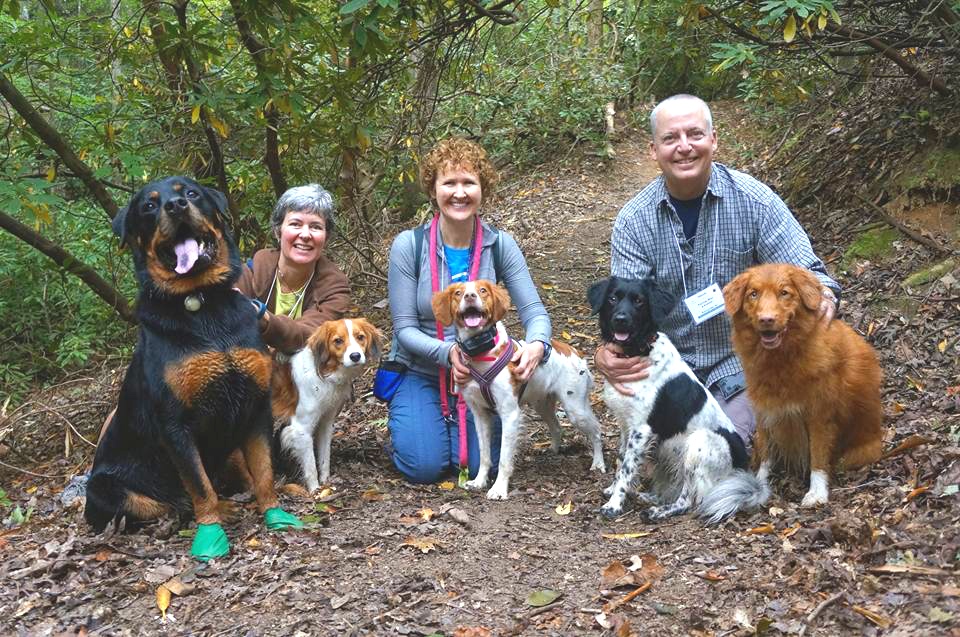 Guardians must fill out a detailed questionnaire about their dog's history, behavior, training, upbringing. CU staff review the information submitted to us very carefully, our trained behaviorists talk to the guardian to determine whether the dog is appropriate for our off-leash environment. Dogs must play well with other dogs and not be aggressive. In some cases we may ask for references from a trainer or veterinarian. To minimize potential tension, we don't allow unneutered male dogs, females in heat, or dogs less than ten months of age.
The people who run Camp Unleashed—our logistics team, our behaviorists, our trainers, our sports instructors—are trained, qualified professionals, many with multiple certifications. Their role is to teach their specialty and also to help us maintain a safe environment. The ratio of Camp Unleashed staff to campers is approximately one staff member for every four campers, which ensures a great deal of personal attention. Every camp has at least one certified veterinary technician with an Emergency Veterinary Medicine Kit on hand.
We limit the size of each camp to no more than 55 dogs so the size of the pack is manageable and not overwhelming. This enables us to make camp a more relaxed, more personal experience. Because we offer multiple activities at the same time, people and dogs are usually in groups of 10 or less.
Although the camps where we hold our retreats are not fenced in, they are located in secluded, private, rustic places, far from automobile traffic and roadways. These are camps where people pay to send their children for weeks at a time, so they are naturally designed for the safety of kids. all Cabins and playing fields are located within the grounds.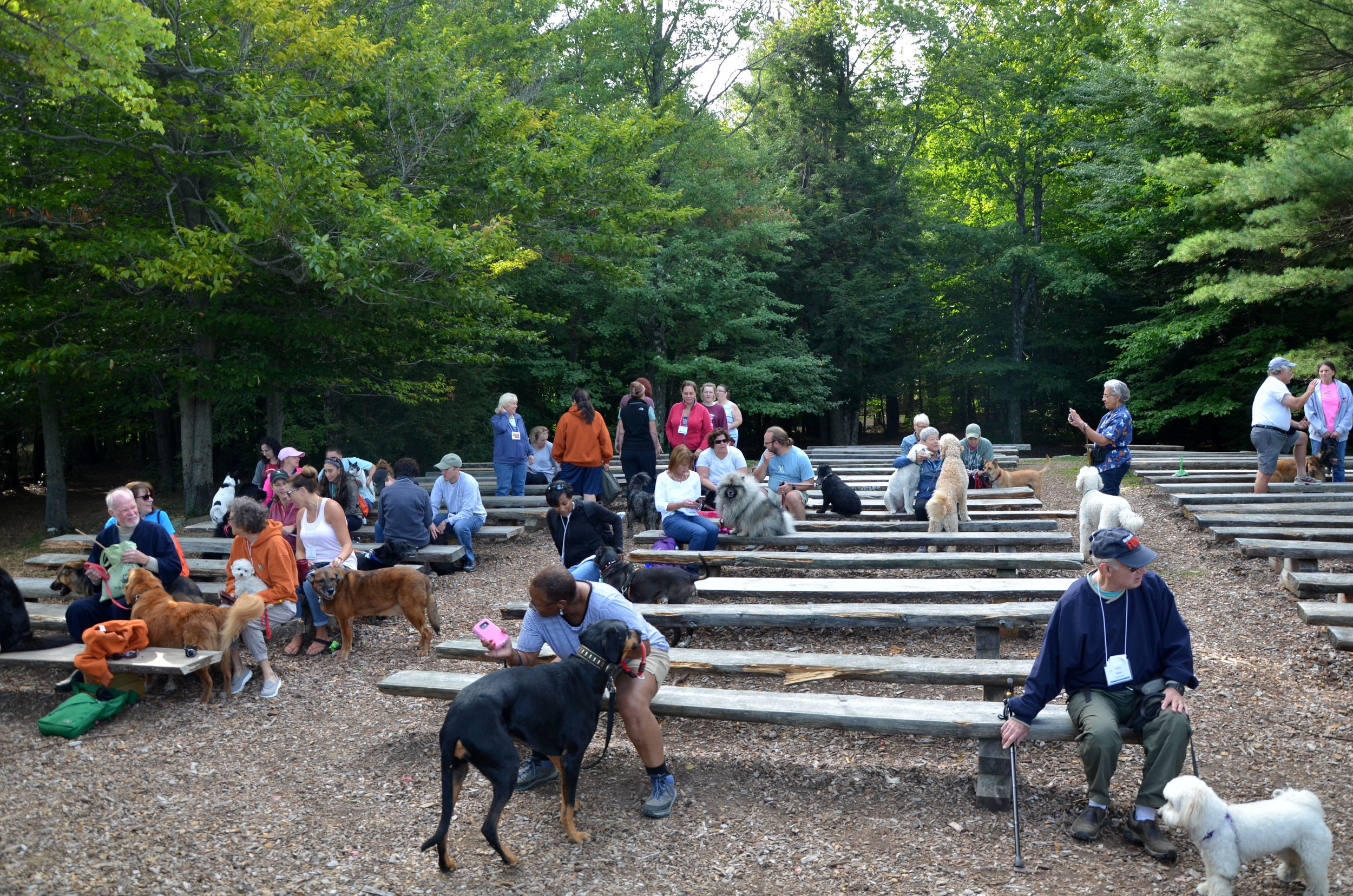 Hundreds of dogs have attended Camp Unleashed. We are continually learning by observing them and from camper feedback. We have a process and protocol for introducing and mixing dogs, and managing the flow of their energy in a safe manner.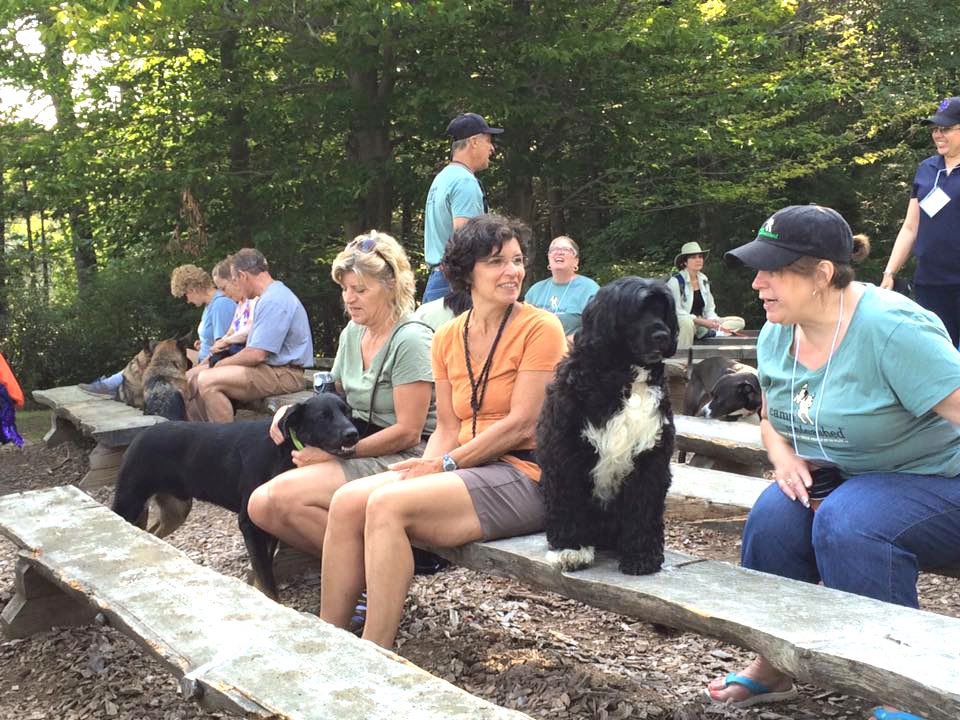 Camp Unleashed has a high percentage of campers who return every season — many attending more than one session a year. Having a core of seasoned, experienced campers and dogs sets a tone for the others in the pack.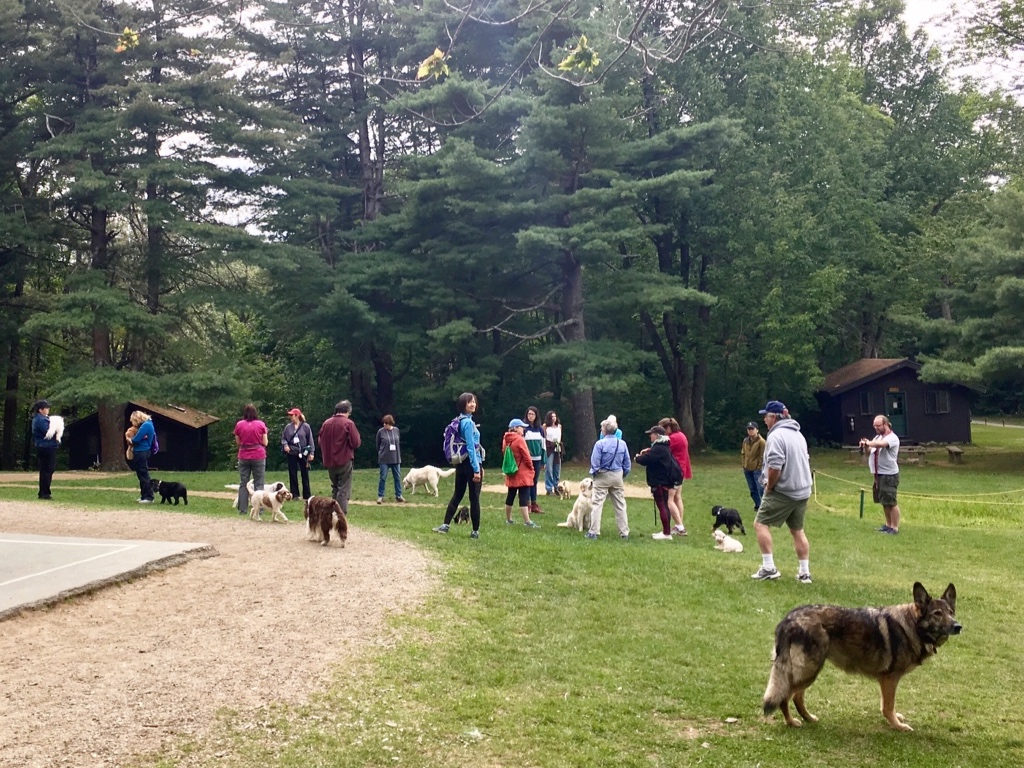 When we hold a camp, we are the only group on the premises at that time. The only people you will see are other campers and camp staff. Dogs are respected and embraced by everyone. We do not allow children under 12 to attend camp. those under 18 years of age must be accompanied by their legal guardian and experienced with dogs and dog behavior.
We have an established set of rules that each camper must follow. For example, we do not allow e-collar, shock, chain, choke or prong collars, or flexi-leads. Every dog must have certification of a current rabies vaccination (or acceptable titer), as well as a Health Certificate signed by their veterinarian within 30 days of camp, stipulating that the dog is free of any contagious skin condition or other health problem.